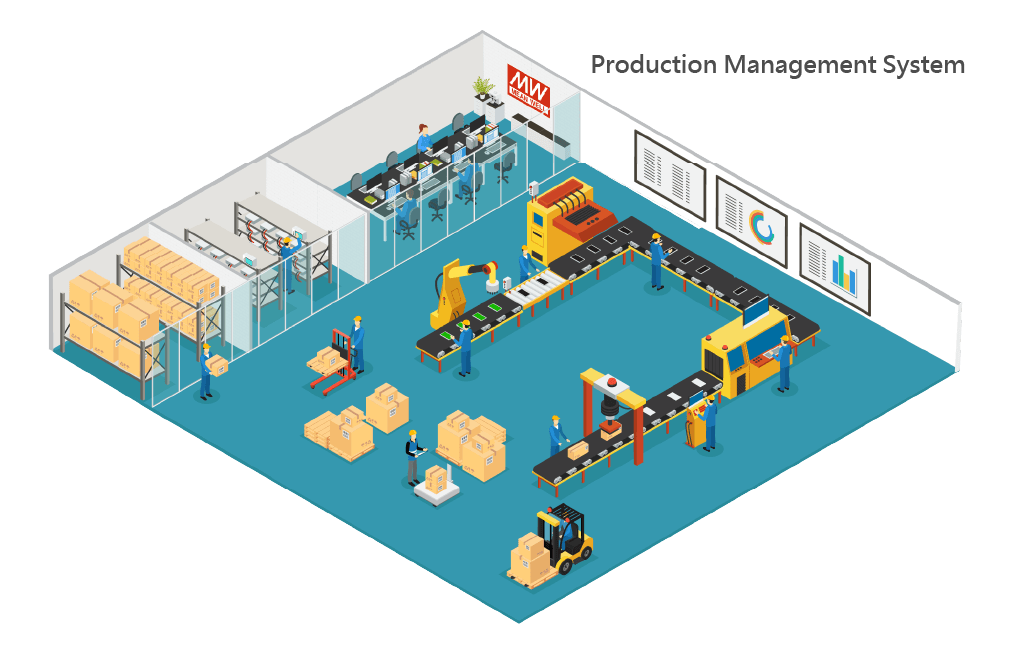 MEAN WELL MES (Manufacturing Execution System) was developed and applied by MEAN WELL, connected with its own ERP and combined with the production process. It also actively collects and monitors the production data generated during the manufacturing process, analyzing and improving the efficiency/quality in the process. The MES system is positioned at the execution level and undertake work orders issued by ERP and publish them to the production line in real time. Through on-site data collection, they can directly correspond to operations and factory management personnel to provide production support. The information it manages is based on the current session or period, and it provides instant messages for on-site managers to make decisions.
● MEAN WELL developed its own SMT material error prevention system and imports the material table of each station into the system for management.
● Use the material QR code to compare the materials of different stations and provide an audible alarm to prevent the materials from being erroneous.
● Complete records of SMT material preparation/loading/refilling/information, and tracking materials used in work orders.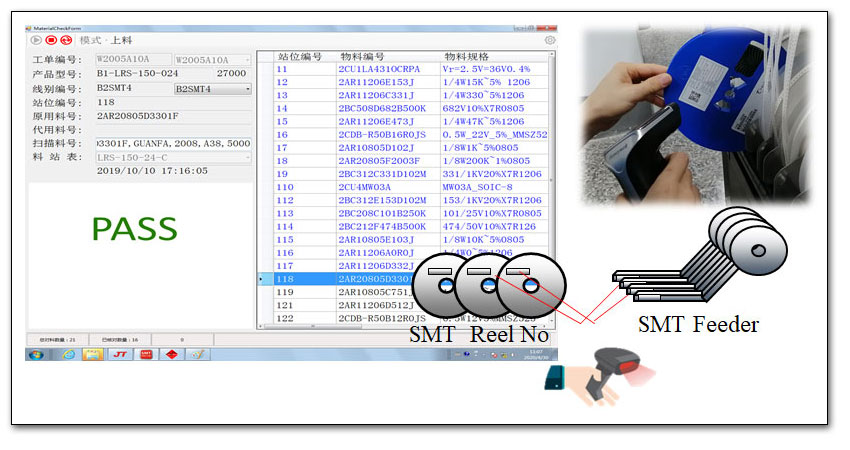 ● Integrated with MES through automated production equipment, download work order information and automatically return production status.
● Return each section's production quantity, line change time, good products, defective products, etc... information.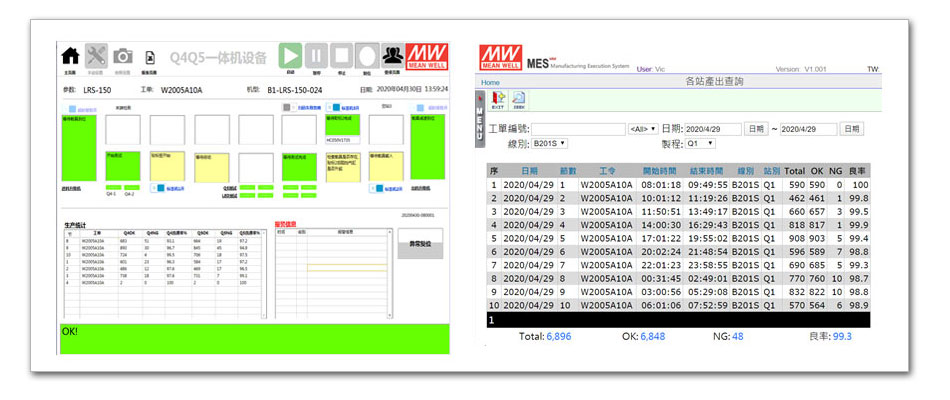 Application Example: IRM Automatic Test All-in-One Machine in Manufacturing Building of MEAN WELL Suzhou Intelligent Campus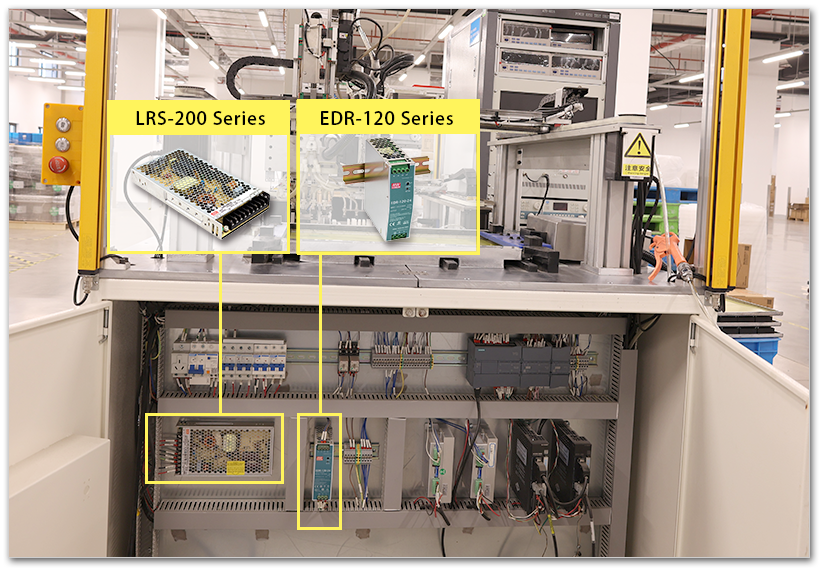 The production data of each equipment is connected in real time, through data visualization and on-site image transparency, it is more convenient for managers to grasp factory production problems.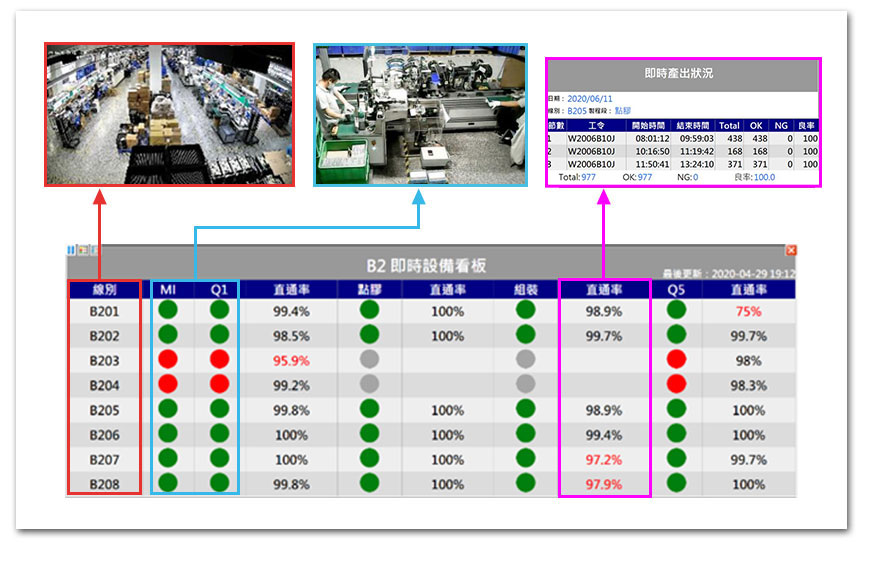 Application Example: MEAN WELL Guangzhou Production Line –
Real time electric display
QR code is used to track and connect processes from material error prevention to production line start/switch, until product shipment. The integrated production flow establishes product traceability and provides customers with better quality and service.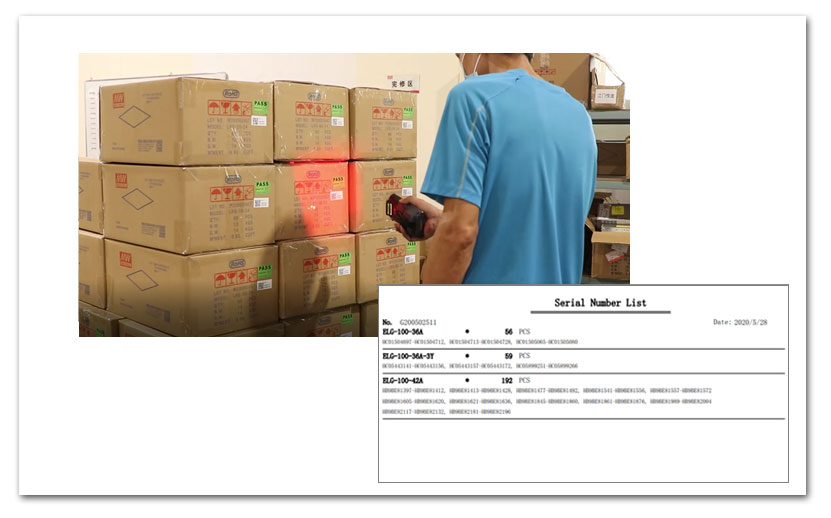 Any manufacturer that produces electronic products and equipment must undergo burn-in and aging tests in the production process. However, the burn-in process consumes a lot of electricity. To improve the problem of power consumption, MEAN WELL uses our self-developed energy recovery power supply combined with the power monitoring system (CMU2) to recycle the power consumed during the burn-in test, which can reduce energy consumption by more than 70%, up to 90%.

When the operator selects the work order, the system can automatically load the aging parameters through the connected system and visualize the lights to display the aging status of the product in real time and follow the entire aging SOP to control each step with firmware to ensure 100% aging, after the aging is over, the system will automatically return the test results related to the aging data for future inspection and analysis.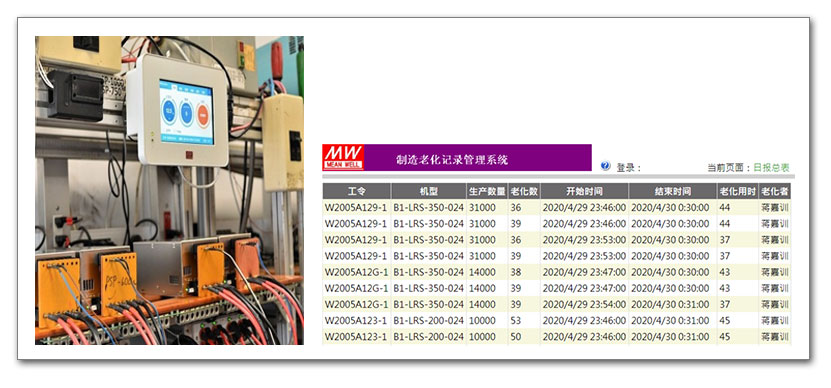 ● Non-Grid-tied: ERS Series
Basic version: Adjust the load required by the device through the digital Energy Recycling Controller (ERC), and feed the electric energy back to the DUT as the input power source. The insufficient electric energy is then provided by the ERS-1400.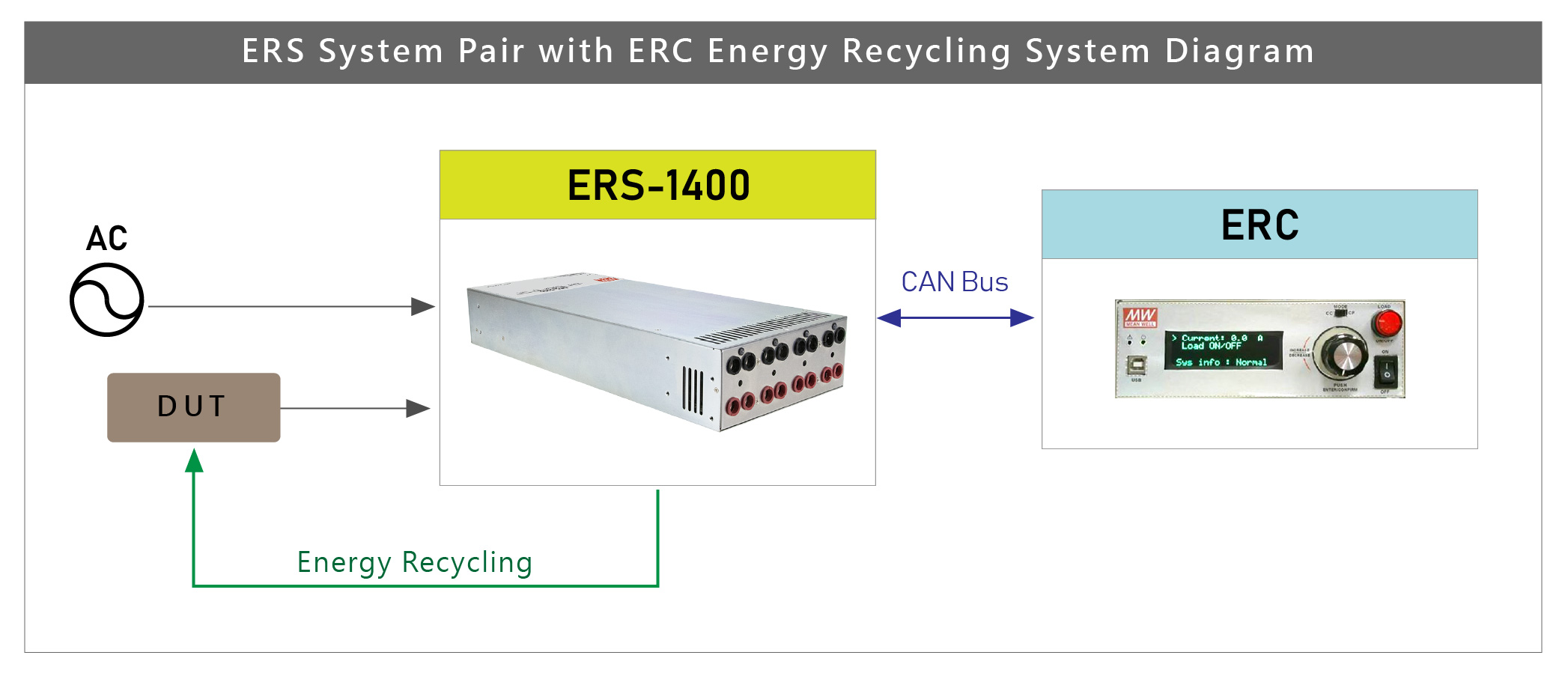 Intelligent version: Through CMU2 combined with the MES/ERP, the work order/aging parameters/workflow processes are connected to realize the complete intelligent aging application and provide synchronous control and big data analysis.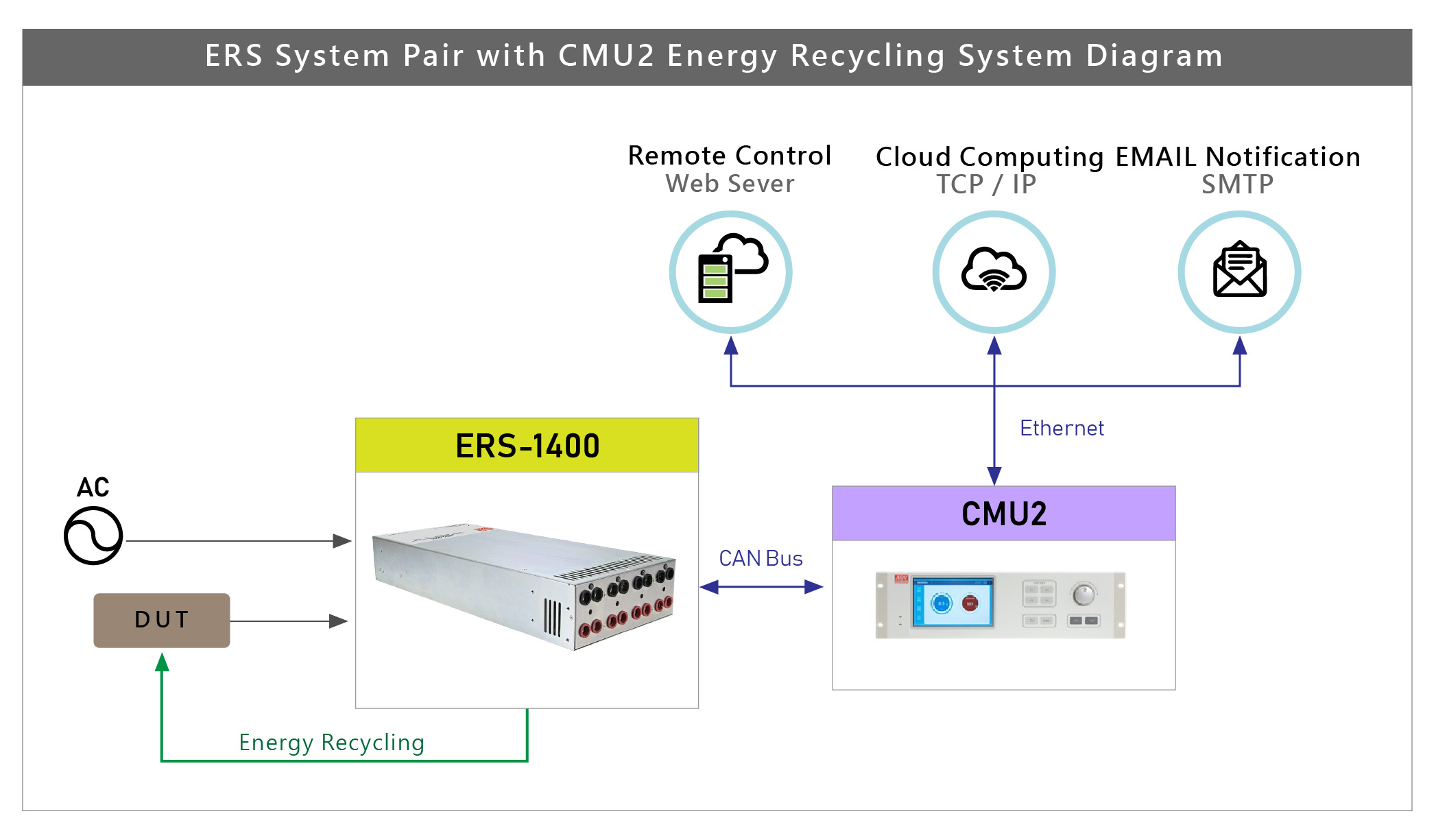 ● Grid-tied: ERG Series
MEAN WELL's newly developed ERG-5000 series feeds the burn-in power directly back to the mains, and it can be used with CMU2 to achieve intelligent control/real-time monitoring/big data analysis.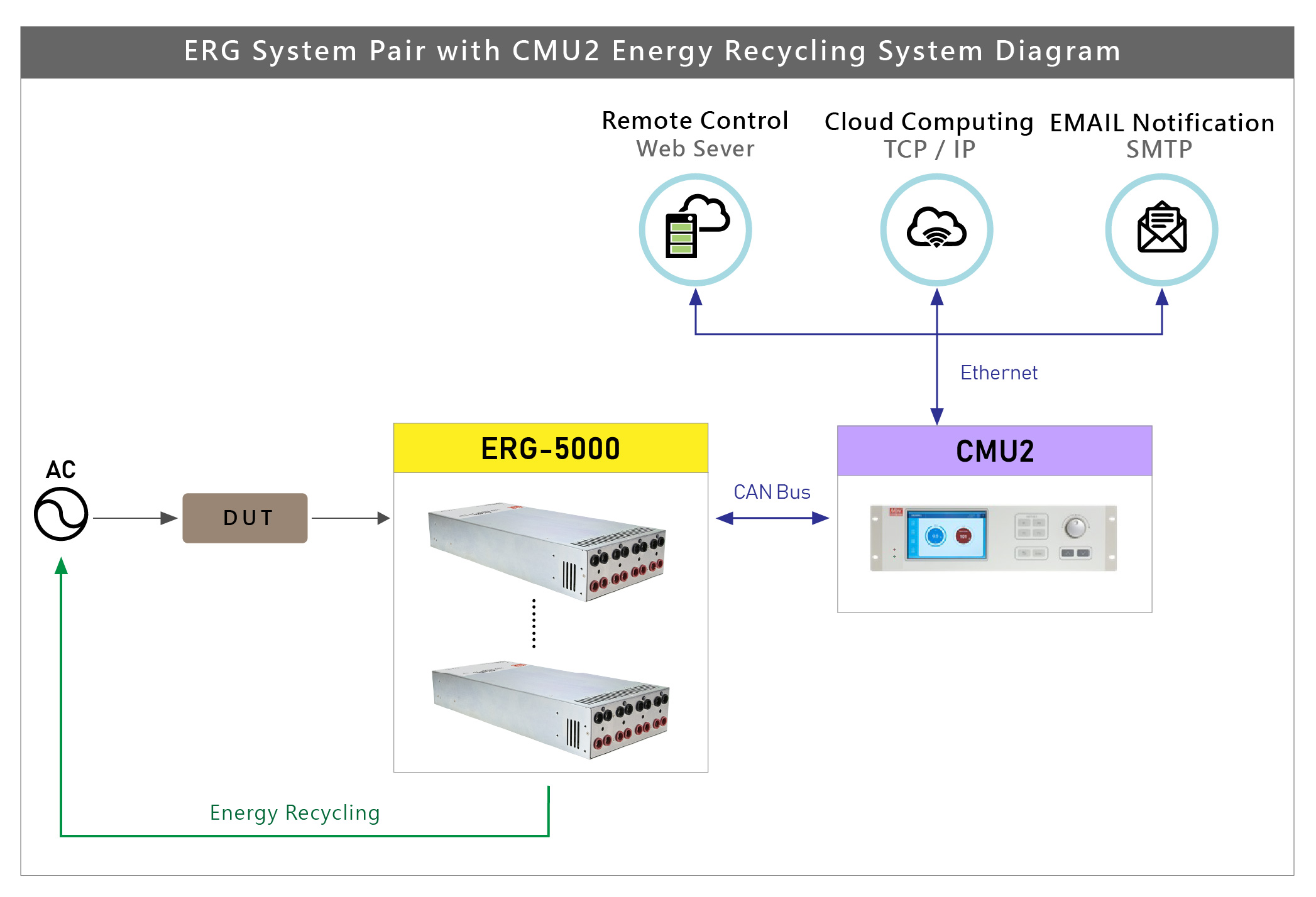 Application Example: MEAN WELL Taiwan Burn-in equipment room implements ERS energy recycling system to reduce on average 70% energy consumption, maximum energy consumption reaches 80%.
DC Output Product – Energy Recycling Solution Recommendation

Digital Controllers: CMU2 (Intelligent) / ERC (Basic)

Energy Recycling: ERS-1400(H) non-grid-tied / ERG-5000 grid-tied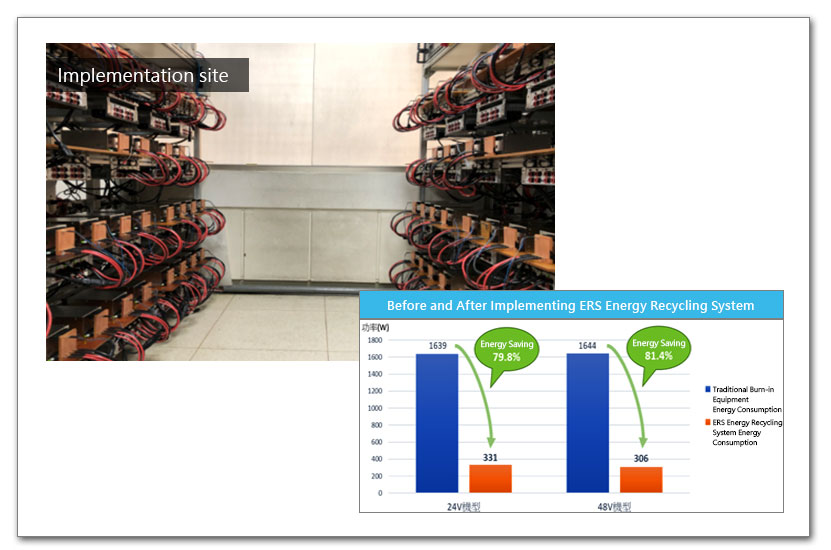 ● AC Output Product Applications
Most of the non-grid-tied AC products on the market often use resistance to convert electrical energy into heat during the burn-in/aging process, and then use heat sinks and fans to forcibly dissipate heat. The electrical energy consumed is purely a cost loss. MEAN WELL's newly developed BIC series power supply is paired with CMU2 to adjust the load required by the DUT to feed the electric energy back to the DC input voltage of the DUT, and the loss part is supplied by the DC source, which can save up to 90% of energy in comparison to the traditional burn-in and aging method.
AC Output Product – Energy Recycling Solution Recommendation

Digital Controller: CMU2 / Energy Recycling: BIC-2200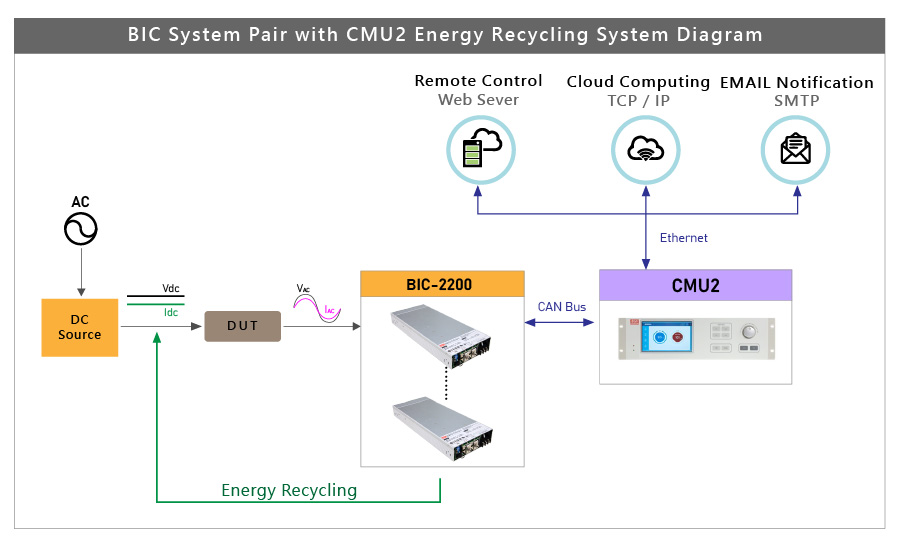 ● Lithium Battery Test Equipment
In the field of lithium battery test and feedback equipment, the core device is a two-way power supply, which not only converts AC mains into the charging voltage of lithium batteries to charge the battery, but also inverts the battery voltage into AC power during the battery discharge test and integrates it into the grid for other equipment. This setup will be able to greatly reduce the problem of energy waste during lithium battery testing. MEAN WELL's newly developed BIC-2200 two-way power supply series is suitable for all kinds of battery development/testing equipment. At the same time, it can charge and discharge the battery and connect it to the grid to save energy in the battery production process.
Lithium Battery Test Application – Energy Recycling Solution Recommendation:

Digital Controller: CMU2 / Energy Recycling (Grid-Tied 2-Way Power Supply): BIC-2200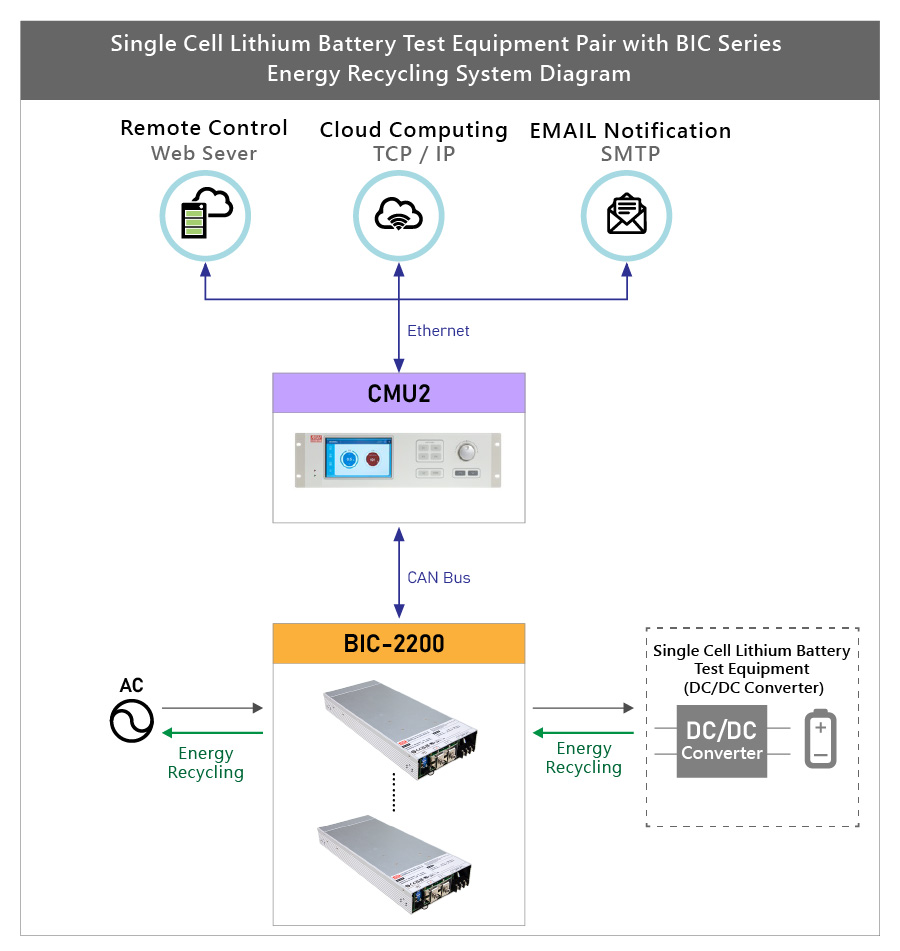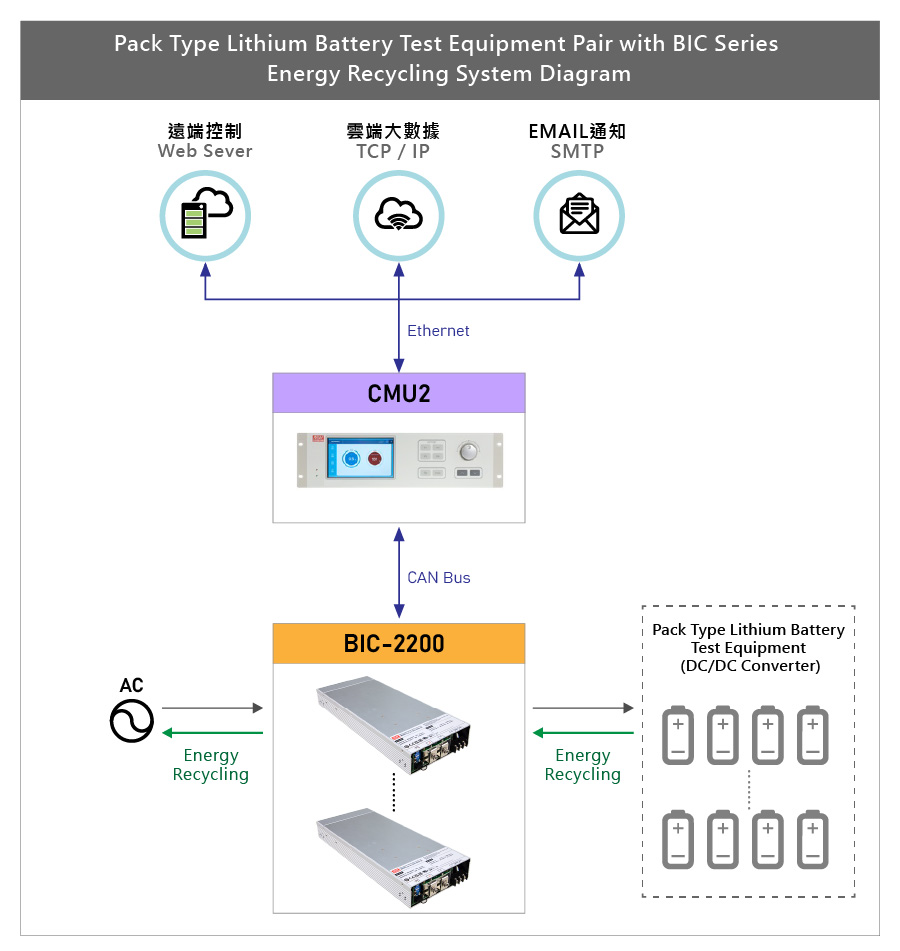 As a result of energy-saving and carbon emission reduction trends, motor efficiency is one of the key factors for related industries to compete in the international market. Because the rotor of the brushless DC motor uses permanent magnets, it does not need to be excited electrically, which can reduce rotor power loss and improve operating efficiency. In recent years, environmental awareness has risen. MEAN WELL has developed a BLDC motor drive inverter VFD series with power factor correction (PFC) function to reduce unnecessary power waste and carbon emissions.
Application: MEAN WELL Taiwan Implements Self-Developed Motor Drive for Factory Fans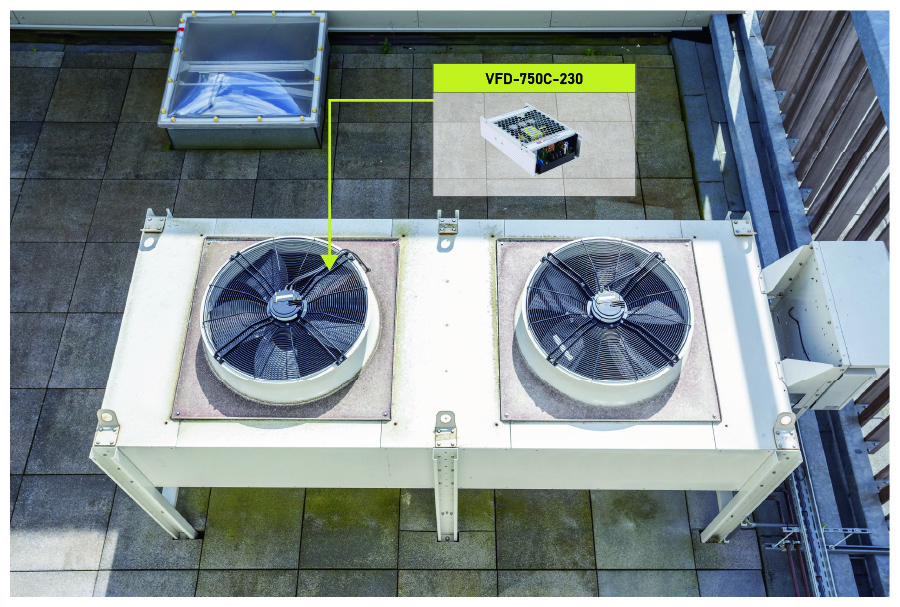 Application: MEAN WELL SuZhou Intelligent Campus Garden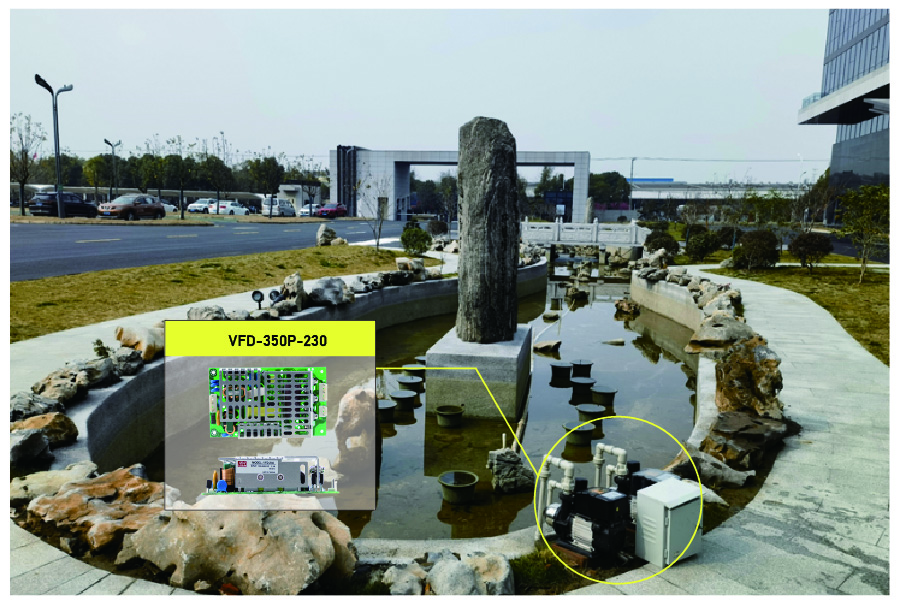 Adhering to the principle of "Sharing Resources and Creating the Future Together", with years of power supply development technology and manufacturing experience, and integration of automation equipment manufacturer resources, SHARE WELL provides automation solutions required by power-related industries and integrates manufacturing information and intelligent management services, assisting customers to build automated smart factories and jointly enhance industrial competitiveness.
With the manpower and automation advantages combined with the production technology of the supply chain, SHARE WELL has established a flexible production factory, allowing customers to enjoy faster and more cost-effective customized services.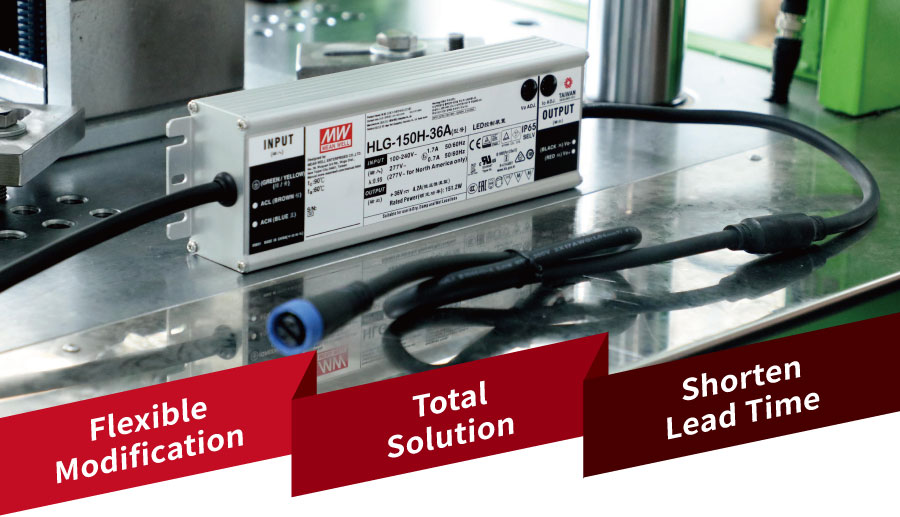 LED Driver Cable Modification Service
---
In order to provide customers with more services and reduce the trouble of additional processing and modification of wires, MEAN WELL provides LED driver power supply cable modification services. We can assist according to customer needs, modify the cables by injection molding, changing cable, or add waterproof connectors to expand application possibilities.
Note
1. MEAN WELL can assist in modification of cable lengths or changing the entire cable
2. There are 4 kinds of standard lengths, length 30/ 60/ 90/ 120cm and 4 kinds of size M12/ M15/ M16/ M19 waterproof connectors for customer selection. If customers need other cable lengths or corresponding connectors, please contact MEAN WELL.
3. This modification service is applicable to the following series: XLG/ HLG/ ELG and XBG series.
Modification Process Introduction Video▼