From a local company with only 1 million Taiwan dollars capital to an international corporate with more than 1 billion US dollars revenue, MEAN WELL has not only experienced the success, but also conquered the challenges. Established more than 38years, MEAN WELL, the pioneer of the global standard power supply industry, still upholds its initial intention "have good intentions" with a prudent and pragmatic business strategy.

In 2020, fairs around the world have been postponed or cancelled because of the epidemic. However, MEAN WELL's marketing services are not halted. Thanks to the technology advance, several multinational webinars were held. To further fulfill the need for more consumer-facing product presentations with innovative strategies, the company has just opened a Virtual Expo, where a range of up-to-date products and technical news will be available 24 hours a day, seven days a week.

In the main hall, webinars and press releases will be announced regularly. Welcome to visit us!
BLDC Motor Drive Design Competition
Motor drive is playing an important role for topics relevant to energy saving and dedicated control system. Following the emerging trends in global industries, MEAN WELL, specializing in switch mode power supply design and manufacturing over 40 years, would like to make a contribution. We have been focusing on switching power supply for decades. In this event, we will take MEAN WELL hardware expertise by providing the development kits and relevant design information and combine with firmware for drive control which is developed by the participants.

Visit the website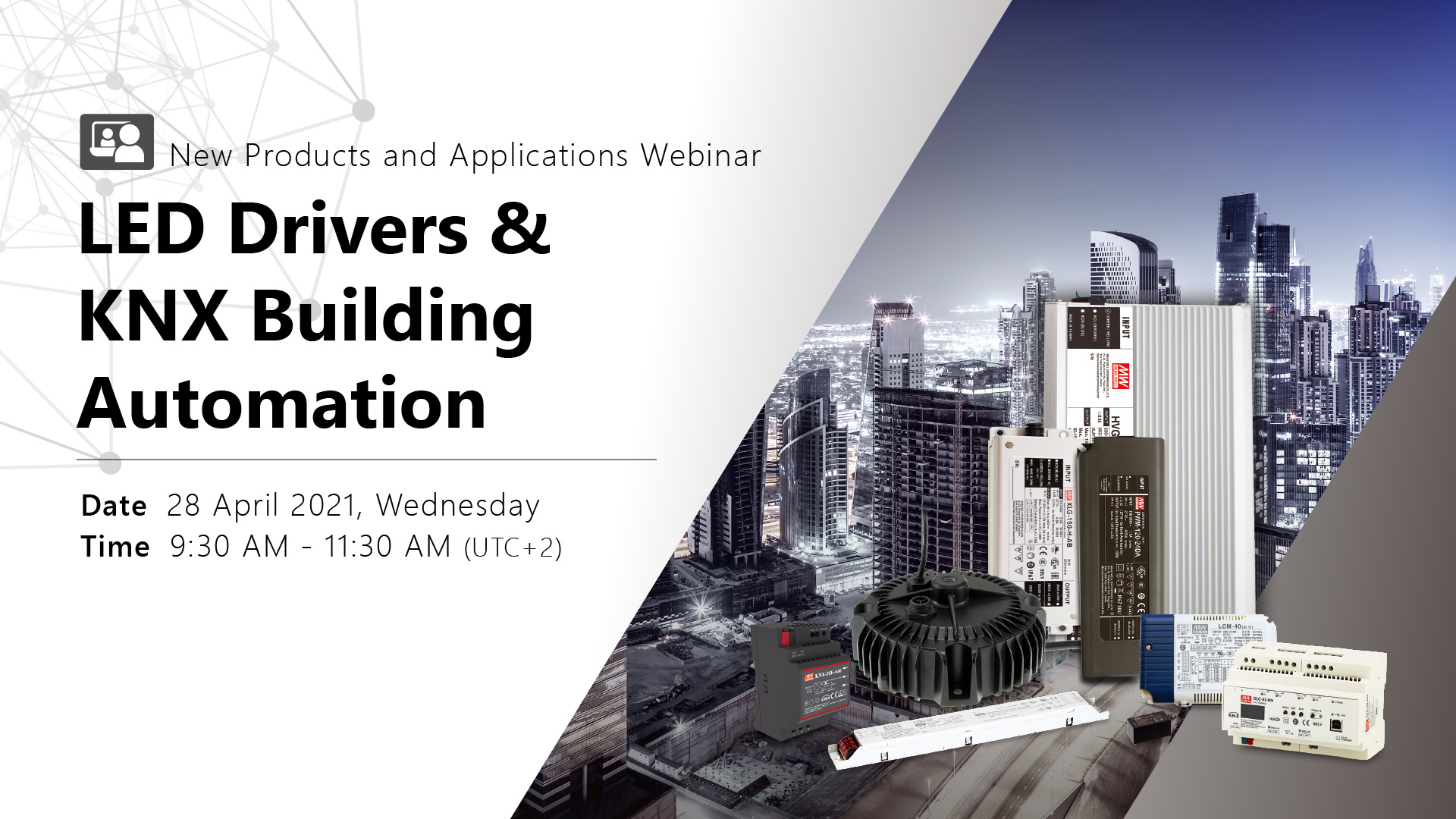 Following the latest technology evolution in both LED lighting and intelligent building industries, MEAN WELL continues to further develop new products to meet the demands from different markets and new applications. At this new product and application webinar, the MEAN WELL product manager and technical support engineer will introduce the latest development of LED products for indoor lighting, farm lighting application, DALI-2 LED power supply, DC / DC LED power supply, and the new products update for KNX building automation market.

TOPIC:LED Drivers & KNX Building Automation| New Products and Technical Seminar
TIME:April 28 (Wed.) AM 9:30-11:30 (UTC+2)
※The webinar will be hosted in English
※This online webinar is exclusive for MEAN WELL distribution partners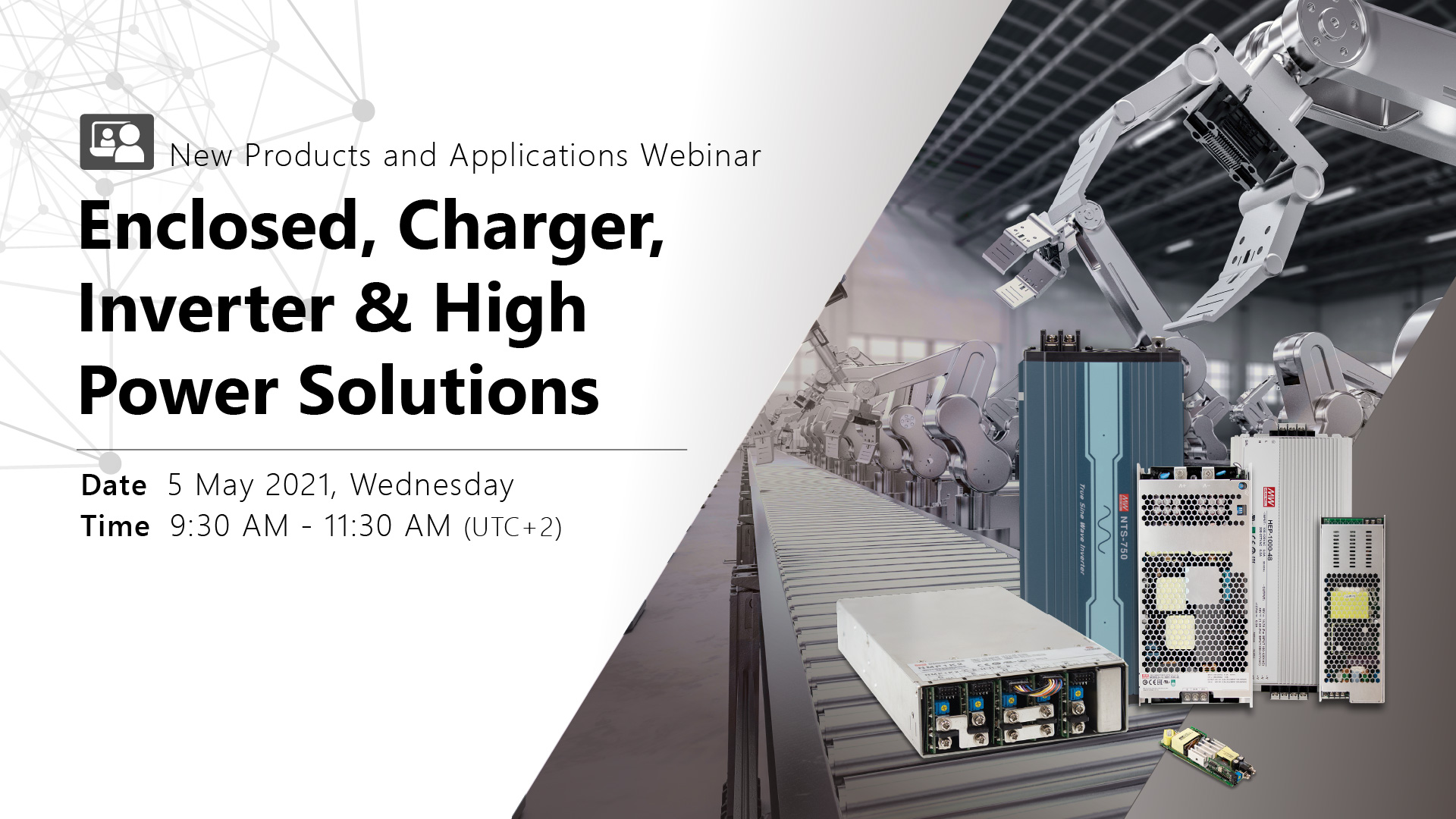 With more than 38 years of experience in industrial power supplies, MEAN WELL has never ceased to develop new products and technologies to meet the needs of various market segments. On the occasion of the upcoming online product webinar, MEAN WELL product and technical team will be introducing the new generation of inverter and charger, sharing the latest developed bi-directional power supply for energy recycling, battery storage system, 5G application, and providing updates for our configurable system power.

TOPIC:Enclosed, Charger, Inverter & High Power Solutions | New Products and Technical Seminar
TIME:May 5 (Wed.) AM 9:30-11:30 (UTC+2)
※The webinar will be hosted in English
※ This online webinar is exclusive for MEAN WELL distribution partners
Media Zone
Dear Friends,
According to the 2020 MTC report, MEAN WELL ranks No. 4 in the world among global power supply manufacturers. Among the top five, MEAN WELL is the only power supply manufacturer with its brand, namely the first in the standard power supply industry.

What is the secret of MEAN WELL's business strategy? The answers lie in a clear market position and a focused mind. MEAN WELL specializes in the "small and diverse" industrial standard power supplies and targets on a large number of small and medium customers. To meet the needs of various power applications in multiple industries, MEAN WELL owns more than 10,000 power products. The unique inventory-based production management and thorough distribution channel partners which cover more than 80 countries make MEAN WELL power almost ubiquitous. Press releases will be issued from time to time, if you need more information, please contact the marketing center : frances@meanwell.com
Company Profile
Founded in 1982, MEAN WELL is one of the world's few manufacturers dedicated to standard power supply products. It is ranked the 4th in global power supply (DC output) makers according to a report by Micro Technology released in March, 2020. 99% of MEAN WELL sales are of standard power supply products sold under the MEAN WELL brand name. The other three companies' products are ODM/OEM.
Thanks to robust partnerships with 200 plus authorized distributors around the world, MEAN WELL has been growing and getting stronger for three decades. MEAN WELL had combined revenue of USD 1,001 million in 2019 via the dedication of 2,800 employees located at its global headquarters in New Taipei Industrial Park, Taiwan, branches and sales offices at Guangzhou, Shenzhen, Suzhou in China, California USA, and the Netherlands in the EU, and three advanced production bases in New Taipei City (Taiwan), Huadu District in Guangzhou, and Suzhou City in China.
More Information