From a local company with only 1 million Taiwan dollars capital to an international corporate with more than 1 billion US dollars revenue, MEAN WELL has not only experienced the success, but also conquered the challenges. Established more than 38years, MEAN WELL, the pioneer of the global standard power supply industry, still upholds its initial intention "have good intentions" with a prudent and pragmatic business strategy.

In 2020, fairs around the world have been postponed or cancelled because of the epidemic. However, MEAN WELL's marketing services are not halted. Thanks to the technology advance, several multinational webinars were held. To further fulfill the need for more consumer-facing product presentations with innovative strategies, the company has just opened a Virtual Expo, where a range of up-to-date products and technical news will be available 24 hours a day, seven days a week.

In the main hall, webinars and press releases will be announced regularly. Welcome to visit us!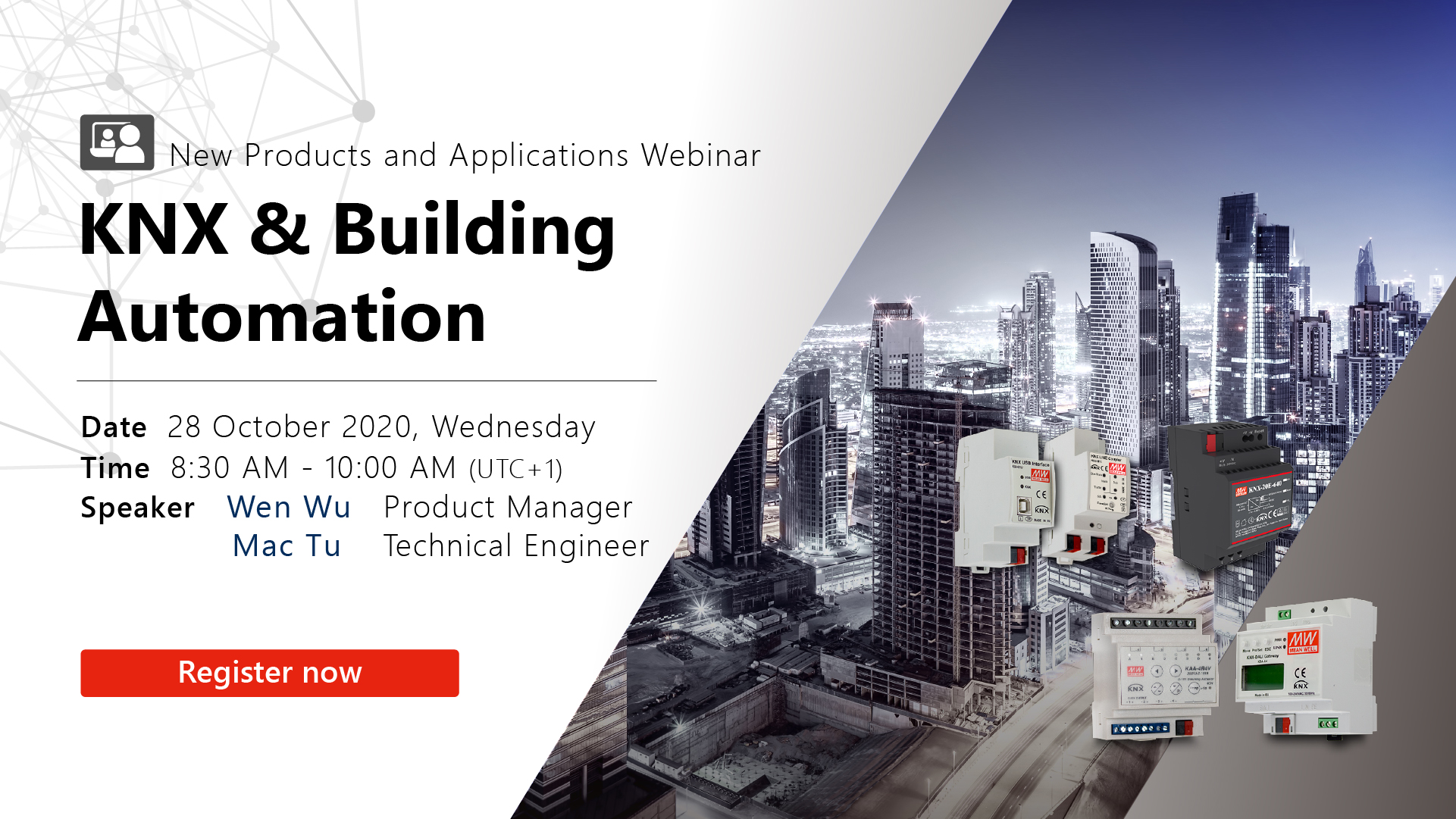 With high demand on intelligent building industry in recent years, a huge opportunity in the building automation market has been created. KNX system, originated from Europe, has been established for its stable, reliable, easy to expand, rich product line, and easy to maintain characteristics in the field of building construction. In 2019, MEAN WELL led the industry in the development of KNX direct control LED power supply, combined with miniaturized switching actuators and bus power supplies, which greatly reduced the entry barrier for smart buildings and meanwhile provide additional added values. If you want to know more about the KNX system in building automation, we invite you to join us via webinar.

TOPIC:KNX & Building Automation | New Products and Technical Seminar
SPEAKERS:Product Manager/ Wen Wu, Technical Engineer/ Mac Tu
TIME:Oct. 28 (Wed.) AM 8:30-10:00 (UTC+1)
※The webinar will be hosted in English
Register Now
Media Zone
Dear Friends,
According to the 2020 MTC report, MEAN WELL ranks No. 4 in the world among global power supply manufacturers. Among the top five, MEAN WELL is the only power supply manufacturer with its brand, namely the first in the standard power supply industry.

What is the secret of MEAN WELL's business strategy? The answers lie in a clear market position and a focused mind. MEAN WELL specializes in the "small and diverse" industrial standard power supplies and targets on a large number of small and medium customers. To meet the needs of various power applications in multiple industries, MEAN WELL owns more than 10,000 power products. The unique inventory-based production management and thorough distribution channel partners which cover more than 80 countries make MEAN WELL power almost ubiquitous. Press releases will be issued from time to time, if you need more information, please contact the marketing center : frances@meanwell.com
Company Profile
Founded in 1982, MEAN WELL is one of the world's few manufacturers dedicated to standard power supply products. It is ranked the 4th in global power supply (DC output) makers according to a report by Micro Technology released in March, 2020. 99% of MEAN WELL sales are of standard power supply products sold under the MEAN WELL brand name. The other three companies' products are ODM/OEM.
Thanks to robust partnerships with 200 plus authorized distributors around the world, MEAN WELL has been growing and getting stronger for three decades. MEAN WELL had combined revenue of USD 1,001 million in 2019 via the dedication of 2,800 employees located at its global headquarters in New Taipei Industrial Park, Taiwan, branches and sales offices at Guangzhou, Shenzhen, Suzhou in China, California USA, and the Netherlands in the EU, and three advanced production bases in New Taipei City (Taiwan), Huadu District in Guangzhou, and Suzhou City in China.
More Information