The charger and inverter product line covers 30~3200W products, and they can be used in various systems with each other. The charger can provide AC/DC to charge the battery, and the inverter can convert power from the battery to AC to power AC equipment. This configuration is often used in portable power tools, electric vehicles, camping cars, ships, and countries where AC power is unstable. In recent years, new energy source topics have continued to be widely discussed, and there have been increasingly numbers of portable DC devices. MEAN WELL will plan for new fields of electric energy and continue to introduce more intelligent and efficient new products for selection.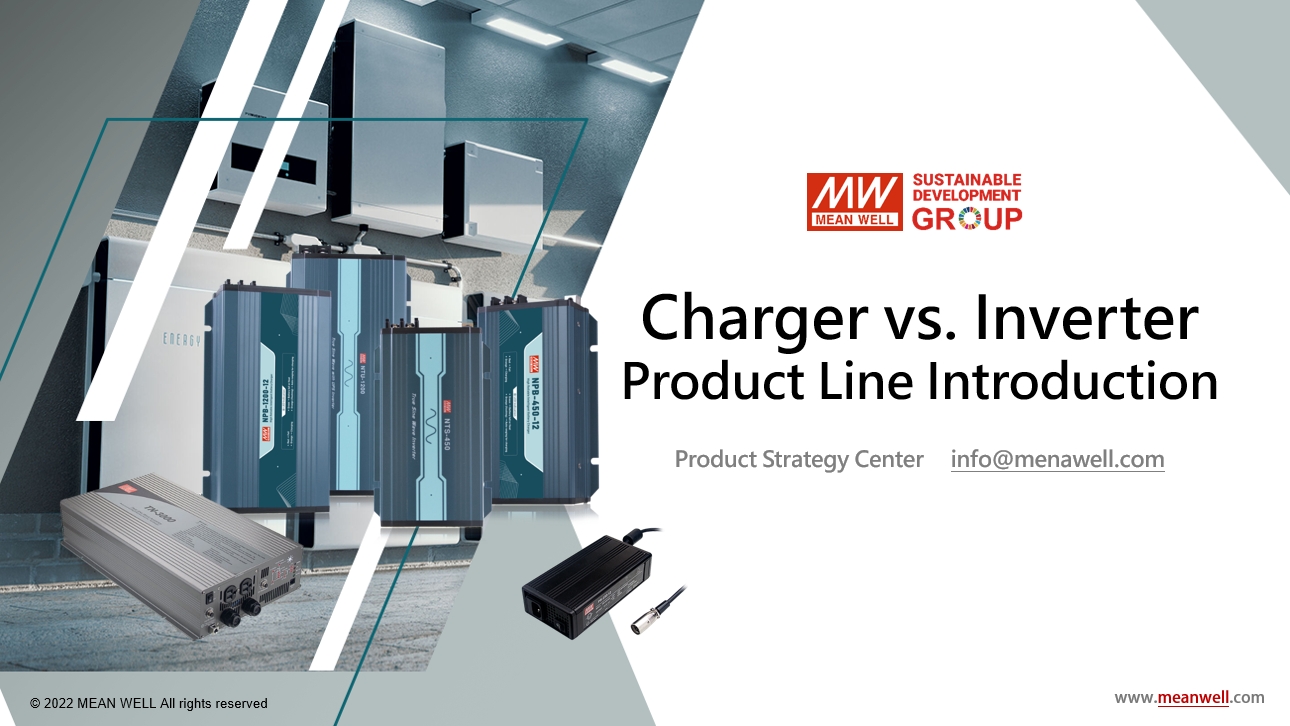 Complete Product Line Introduction
Due to environmental protection issues and increasing numbers of portable DC devices, MEAN WELL has invested in the development of chargers and inverters since year 2006. So far, MEAN WELL has launched more than 200 models from 30~3200W. The product series is complete and widely used for green energy storage, power backup, charging devices, and many other related equipment.
New Products
NTS/NTU-2200/3200 Series
2200W & 3200W DC/AC Pure Sine Wave Inverter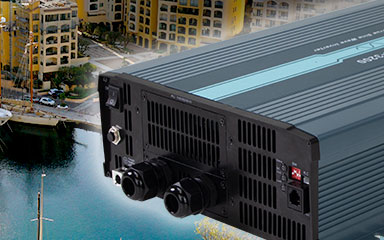 The whole inverter family possess complete product line with these 4 series, covered the wattage range from 250~3200W. Comparing to the old generation of TS-3000 series and brings about improvements such as higher power density, size decreasing while increasing power rating by 200W, easier operation of panel functions,optimized performance, more competitive pricing....


More Information
NTS/NTU-1700 Series
1700W DC/AC Pure Sine Wave Inverter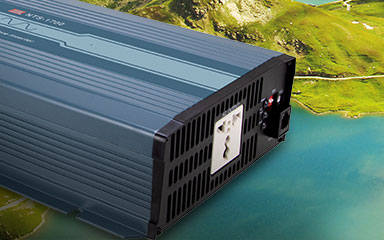 The MEAN WELL NTS/NTU-1700 differentiates itself apart from general consumer grade inverter by adopting industrial-grade high reliability, high safety, high quality, and incorporates environmental protection and high-efficiency conceptual design. It also introduces new digital smart chips and strictly selected construction materials. The main features include instant 3400W peak power capability...


More Information
NPB-1700 Series
1700W Reliable Ultra-Wide Output Range Intelligent Battery Charger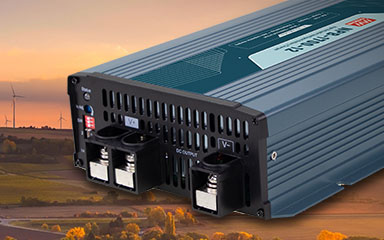 This series features intelligence, wide voltage, multi-purpose design, flexible functions, safety and durability as its core features. The unit is designed with built-in MCU and newly patented auto ranging battery detection technology, which will automatically adjust charging voltage settings depending on the battery voltage. Additionally, there are 12V(10.5~21V), 24V(21~42V) and 48V(42~80V) three different models..

More Information
Media Center
Ultra-wide range Industrial grade charger — NPB/NPP series
Are you still suffering from purchasing products on the market which aren't compatible with both ead-acid(Pb) and li-ion batteries require you to buy multiple power supplies, resulting in unnecessarily higher costs. MEAN WELL has launched a new generation of industrial-grade of chargers— the NPB & NPP series....




More Information
Off-grid Type DC-AC Industrial grade Inverter — NTS/NTU series
Are you still suffering from a power supply you bought misrepresenting the actual working power which prevents the charger from powering-on smoothly? or caus overtemperature protection to be triggered too easily? or frequent replacements due to the low durability of the product increase maintenance costs? MEAN WELL has launched a new generation of industrial-grade of inverters with reliability, and durability— the NTS&NTU series....

More Information
BIC-2200 : Application of Bidirectional PSU with Energy Recycle and AC Grid Function
BIC-2200 is a 2.2kW dual-way power supply. It is designed to both control the power transmission from the AC grid to the DC side and the energy recycled from the DC side to the AC grid. The bidirectional switching power supply allows the grid to charge the battery and feed the electric energy back into the AC grid to achieve energy recycling.



More Information